UPDATE ON THE LAST ORACLE AUDIOBOOKS: Sorry about the delay in production for books 8 and 9! Book 8 just went to retailers for processing (as of 5/18/22) and Book 9 is on the narrator's schedule. Unfortunately, due to scheduling conflicts, Book 9 won't be out until end of September. Thanks for your patience!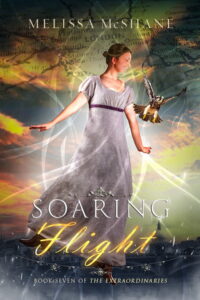 Thanks for visiting my website! Here you can find information about my books, new projects, and my blog posts.
AVAILABLE 5/24/22!
SOARING FLIGHT
Book Seven of THE EXTRAORDINARIES
LONDON, 1815. Home after Napoleon's defeat at Waterloo, Clemency, Countess of Ashford, looks forward to resuming a quiet life. But her past refuses to stay in the past. Fighting memories, the Extraordinary Mover takes to the skies by night, secretly bringing criminals to justice.
When a rash of bombings strikes London, the crisis entangles Clemency in the intrigue centered on the bomber's terrible demands: remove all Extraordinaries from their positions of power, or the city will burn. As Clemency pursues this most dangerous criminal, her past and present collide, forcing her not only to save London, but also to save herself.
Available at Amazon and many online retailers