Thanks for visiting my website! Here you can find information about my books, new projects, and my blog posts. NOTE: for those of you who've been reading Sesskia's Diary on my blog, the story is now complete and available as the trilogy Convergence.
ON SALE SEPTEMBER 18, 2018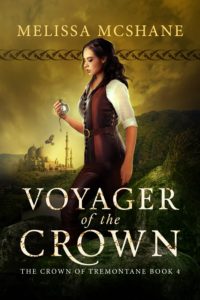 VOYAGER OF THE CROWN
Book Four in The Crown of Tremontane series
Zara North, Queen of Tremontane, has the ability to unconsciously heal herself—a magic that also keeps her from aging. Faced with the reality that public knowledge of her magic could destroy her family's dynasty and cost them the Crown, she faked her own death and set out to make a new life for herself, far from the capital and the family she loved. Never settling anywhere for long, Zara became an exile in her own country.
Now, sixty years after her "death," Zara's ageless face forces her to leave her home yet again. Wanting something different from the quiet life she led for decades, she sets sail for the distant continent of Dineh-Karit, reclusive and alien. When unexpected catastrophe strikes, it strands Zara and a handful of her fellow voyagers in the jungles of Dineh-Karit. Far from civilization, their only guide a reluctant Tremontanan expatriate who has his own reasons for being there, the castaways struggle for survival and to return home.
But Zara, entrusted with a secret by a dying man, finds herself caught between the woman she has become and the Queen she used to be. As an implacable enemy bent on retrieving the secret—a mysterious magical object—draws ever closer, Zara realizes her companions' survival depends on Zara's ability to lead them as she once did a nation. With an identity and a magical secret she still cannot reveal, Zara discovers depths in herself she thought were long gone—and gains a future she never expected.