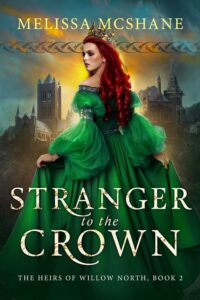 Thanks for visiting my website! Here you can find information about my books, new projects, and my blog posts. NOTE: for those of you who've been reading Sesskia's Diary on my blog, the story is now complete and available as the trilogy Convergence.
ON SALE October 20, 2020
STRANGER TO THE CROWN
Book Two in THE HEIRS OF WILLOW NORTH series
Elspeth North, born and raised far from her Tremontanan homeland, wants nothing more than the peaceful, holy life of a priestess. Although born a princess, she believes her father's abdication means politics and intrigue have nothing to do with her. But her cousin King Francis's untimely death and a twist of Tremontanan law changes her whole life…and makes Elspeth Queen of Tremontane.
With no formal training, no experience, and very little support, Elspeth must learn the complex rules and traditions of a role she never expected to fill, and she must learn them fast—because the fate of a kingdom lies in her hands.
Available at Amazon and many online retailers