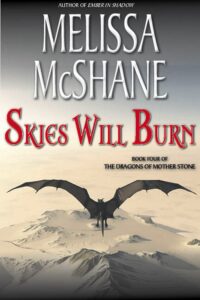 Thanks for visiting my website! Here you can find information about my books, new projects, and my blog posts.
AVAILABLE 1/25/22!
SKIES WILL BURN
Book Four of THE DRAGONS OF MOTHER STONE
A new year brings new purpose to Lamprophyre and Rokshan as they continue in their quest to find and defeat their mysterious enemy, the ancient dragon Sardonyx. But when a prophecy commands the ecclesiasts of Tanajital to climb dragons' most sacred mountain, Lamprophyre must discover the truth behind the god Jiwanyil's intent—an intent that may mean the destruction of humans and dragons alike.
With animosity between dragons and ecclesiasts rising, and Sardonyx's threat looming, Lamprophyre and Rokshan will need every advantage to defend against the day when an ancient evil wakes.
She is coming. And the skies will burn.
Available at Amazon and many online retailers