8/9/22–UPDATE ON THE LAST ORACLE AUDIOBOOKS: By now, Book 8 is available from most audiobook retailers. The narrator has just begun recording book 9, and I hope for that to be finished by the end of September. Due to Audible's processing requirements, that means Audible users will see The Book of Destiny in audio format by the end of October. Thanks for your patience! Check back for more updates.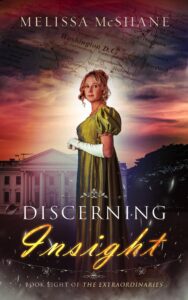 Thanks for visiting my website! Here you can find information about my books, new projects, and my blog posts.
Available on August 23, 2022
DISCERNING INSIGHT
Book Eight of THE EXTRAORDINARIES
LONDON, 1816. After many years confined to an asylum when her ability to sense the emotions of others drove her temporarily mad, Lydia Wescott, Extraordinary Discerner, now serves England as a secret agent. Recruited by the Duke of Craythorne to stop a threat to the King of England, Lydia travels to the American colonies, where intrigue and treason threaten on every side.
Lydia wants nothing more than to put her Discerner's talent to good use, but her hard-won control could be an illusion. As Lydia and Craythorne close in on the traitors, Lydia's talent may be the downfall not only of England's enemies, but of herself.
Available at Amazon and many online retailers