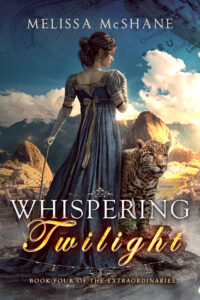 Thanks for visiting my website! Here you can find information about my books, new projects, and my blog posts. NOTE: for those of you who've been reading Sesskia's Diary on my blog, the story is now complete and available as the trilogy Convergence.
ON SALE January 19, 2021
WHISPERING TWILIGHT
Book Four of THE EXTRAORDINARIES
PERU, 1815. Bess Hanley, fresh from service with England's War Office and grieving the loss of her dearest friend, embarks on a sea voyage that ends in disaster. Shipwrecked off the coast of Peru, Bess's Extraordinary ability to mentally communicate with anyone is not enough to prevent her from being kidnapped by a lost tribe of Incas.
An Inca Seer's prophecy that Bess will help the Incas regain their dominance over South America tangles Bess in a political struggle that may mean her death. With the help of her Speaker friends, a mysterious Inca warrior woman, and a man who keeps his identity secret, Bess will try to stop a war—and fall in love with a man she has never met.
Available at Amazon and many online retailers