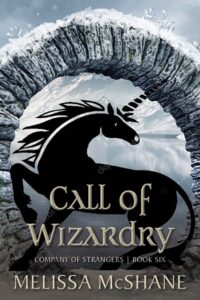 Thanks for visiting my website! Here you can find information about my books, new projects, and my blog posts. NOTE: for those of you who've been reading Sesskia's Diary on my blog, the story is now complete and available as the trilogy Convergence.
ON SALE January 28, 2020
CALL OF WIZARDRY
6th and FINAL book in the Company of Strangers series
THE FINAL CHALLENGE
With their quest nearly over and the coming of age ritual complete, Sienne and her companions prepare to challenge the wizard who enslaved Alaric's people. But a message from an unexpected source reveals terrible news about the identity of the wizard's latest hostage…Alaric's beloved younger sister.
In a desperate attempt to save her life and destroy the wizard, the companions travel to a secret valley in the far north, challenging the combined might of the enslaved unicorns and the most powerful wizard in the world. All their adventures have led them to this moment—but nothing has prepared them for what comes next.
The epic conclusion to the Company of Strangers series, full of terrible danger and heroic sacrifice.
Available at Amazon and most online retailers