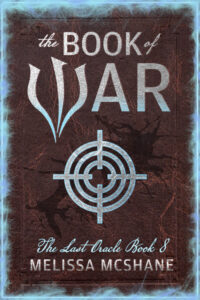 Thanks for visiting my website! Here you can find information about my books, new projects, and my blog posts. NOTE: for those of you who've been reading Sesskia's Diary on my blog, the story is now complete and available as the trilogy Convergence.
ON SALE July 21, 2020
THE BOOK OF WAR
Book Eight in THE LAST ORACLE
Helena and the oracular bookstore Abernathy's stopped an attack by the alien invaders' human allies and destroyed their attempt at a second oracle, giving the Wardens much-needed victories. Now, after months of fighting a defensive war, the Wardens plan a direct assault on the enemy stronghold.
But as the battle approaches, Abernathy's has other plans. The oracle directs Helena to contact four ordinary people with extraordinary talents whose abilities will change the course of the war. Convincing them to join the fight challenges Helena's persuasive powers to the extreme. If she fails, it will mean the deaths of thousands—including those Helena loves most.
Available at Amazon and most online retailers