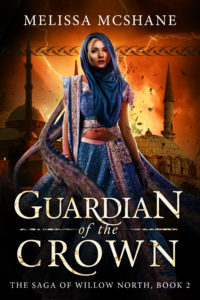 Book Two of the Tremontane series, and second volume of The Saga of Willow North
When Serjian Kerish showed up on her doorstep with the heir to the Crown of Tremontane in tow, Willow North thought her involvement would begin and end with getting him out of the capital and away from his murderous uncle. But bringing the boy-king Felix to the safety of Eskandel was only the beginning of the journey.
Now, as the King's guardian, she must navigate the murky waters of Eskandelic politics, trying to build support that will allow him to take back his kingdom. Amid the challenges of assassination attempts, cultural misunderstandings, and her growing attraction to her former fiancé Kerish, Willow must discover who she really is: a sneak thief, or the guardian of the Crown.
Buy on Amazon
Buy online at Barnes & Noble
Buy for Kobo
Buy at Smashwords
Available in the iTunes store
Buy in print