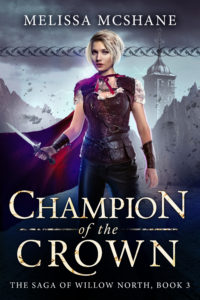 Book Three of the Tremontane series, and third volume in The Saga of Willow North
Willow North has safely brought the boy-King Felix out of Tremontane and secured the support of neighboring Eskandel in his bid to recover the Crown. Now she faces her greatest challenge yet: convincing the Counts and Barons of Tremontane to support Felix as he confronts his uncle, the pretender to the Crown. With Tremontane on the verge of civil war, success hinges on discovering true allies amid those who would take the Crown for themselves.
But Willow's true plan—to choose a new ruler for Tremontane and give Felix a chance at a happy life—hits a snag when it seems none of the potential candidates for the Crown are suitable. With her army racing to meet the pretender's, time is running out. Willow will have to choose a King…and that choice will be one even she doesn't expect.
Buy on Amazon
Buy on Barnes & Noble
Buy on Kobo
Buy at Smashwords
Buy in the Apple store (search on the title)
Buy in print