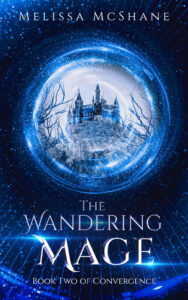 The convergence is over, but Sesskia's role in preventing it has left her far from her friends and her husband Cederic.
As she tries to travel north to rejoin them, events keep interfering. The mad God-Empress of Castavir is in control of an army that threatens to sweep over the newly rejoined countries of Balaen and Castavir. Men and women who use magic like Sesskia's have sprung up after the convergence, and Balaen's ineffectual king wants to use them for his personal protection. New friends, and new enemies, broaden Sesskia's horizons and challenge her loyalties.
Though Sesskia wants only to be reunited with Cederic, she is drawn into the political conflict between two countries lying intertwined with each other, and finds within herself leadership abilities she never could have guessed.
Buy on Amazon here.
Buy at Barnes & Noble
Buy at Kobo
Buy for Apple
Buy at Google Play
Buy in print here.