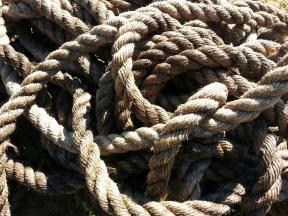 Several years ago I was in a writing group with a bunch of friends. We'd take turns bringing stuff we'd written and having everyone else critique it. One of mine was a chapter from a young adult fantasy novel I was writing (that will never see the light of day). In that chapter, the two protagonists stop at an inn for the night. I described it as something like "not very high-class, but better than sleeping on a rope." This was a detail I'd read somewhere about old flophouses and it amused me, so I thought I'd use it as a throwaway line.
Not one person believed it.
Everyone in the group said it was impossible. I repeated that I'd read this in an historical context and no, I wasn't making it up: in some really cheap lodgings, people would sleep either by sitting on a bench and leaning against a rope strung across the room, or simply hanging on it in flophouses when the beds were all full. They accused me of either misremembering or, yes, making it all up. I gave up and just took the detail out. It annoyed me, because I knew it was clever and interesting and I of course knew better than they did, but I took it out.
Weeks later I got a phone call from one of the people in the group, who was very excited. "We saw it," she said. "The rope. It was in a movie and people were sleeping on it. You were right." I forbore gloating. Much.
Now, just because something's in a movie doesn't mean you can count on it to be true—often it's the exact opposite. And the truth about the rope story, historically, is more complicated. Some of the records about it can't be sourced. Some people who refer to it, like George Orwell who in Down and Out in Paris and London reported this as one of the cheapest lodgings in London (the "Twopenny Hangover") never actually saw it. I've seen a picture of men sitting on benches, leaning up against a rope, dating from the 1930s, and I've found a song by Paul Graney called "Tuppence on the Rope" that refers to the practice, and that's pretty much it. So would I go to the mattresses for this particular detail? Not really. But that's not the point of the story. The point is that in historical fiction writing, I've found that sometimes I have to forget about the rope.
It's kind of a hard call to make. At one extreme, it implies that you can never, ever write something true that someone without a lot of knowledge about your historical era might not believe. And there's always going to be someone whose knowledge ends just where your obscure fact begins. This is where good beta readers come in. In researching my Regency fantasy adventure series, I came up with some historical facts I thought were cool that my beta reader said "That sounds too modern. No one will believe you didn't just screw up." And she was right. Real experts on the Regency period might know the truth, but the average reader would just believe I was wrong. And I didn't need those details. So I forgot about the rope.
But that's not really the point of this story either. It's not about trying to game the system, working out whether something you've written will throw certain readers. What really happened was that I came up hard against the reality that there were some details I was including simply because I was showing off what I'd learned. I wasn't writing for my readers; I was writing for the experts who would know I'd done my research and, I don't know, pat me on the head and give me a cookie for Getting It Right. And that's bad writing no matter how accurate your facts are. It's one thing to have a visitor to Almack's in 1812 make a comment about how no one's going to introduce a new dance there in her lifetime as an Easter egg for those who know the quadrille and the waltz are coming along soon. It's another to put Captain Gronow in your story solely to establish when that happens. For me, forgetting about the rope is all about examining my own motives. Am I doing it to look cool, or am I doing it to write the best story I can?
The writing group is long gone, but I still have those friends. They haven't forgotten the story of the rope. For different reasons, neither have I.