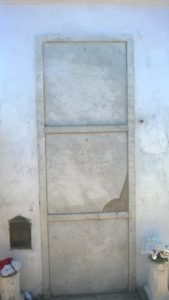 Day Two began with hunting for breakfast, then wandering the streets until ten, when our cemetery tour began. Our tour guide, Renee, was outgoing and loud and very amusing. She was also very knowledgeable, and talked about several cemeteries aside from the one we visited, St. Louis #1. You can only get into this one with a tour guide.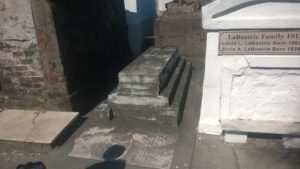 It's quiet, and surprisingly non-scary; I doubt it would be frightening after dark unless you'd just watched a terrifying movie. There are tombs missing their marble façades so you don't know who's buried there, though according to Renee they have plenty of records. I was fascinated by the wall graves, or ovens (they do look like pizza ovens), some of which have dozens of remains interred within. Then there's the Protestant section, which by comparison to the Catholic side (what we usually think of as the St. Louis Cemetery) is weedy and empty. It was more unnerving than the lot full of tombs was.
There are other famous people interred here, like Homer Plessy (of Plessy v. Ferguson fame, and Renee told us an interesting story about the descendants of Homer Plessy and John Ferguson meeting). But, of course, no visit to this cemetery would be complete without a stop at the most famous tomb of all: that's right, the pyramidal monument of Nicolas Cage.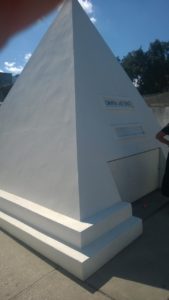 After the tour, we stopped for lunch at a sandwich shop on Bourbon Street, where I had the messiest, most drippy po'boy I have ever eaten. It was delicious, but I think I left half of it on the plate, the half that fell out with every bite. The place also serves po'boy ice cream sandwiches, which looked good, but we were too full to appreciate them. Maybe next time.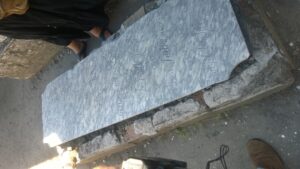 After lunch was more museum time. The Presbytère and the Cabildo, flanking the cathedral, are both home to some of the state museum exhibits. The Presbytère was originally built as a religious residence, though it was never actually used as such. It's been part of the Louisiana State Museum for over a hundred years. The ground floor exhibit is about Hurricane Katrina and its aftermath; the second floor hosts an exhibit on Mardi Gras that I think is a permanent exhibit, because I remember seeing it on my last trip here. It's the closest I ever want to get to Mardi Gras, but it's fascinating–there's a huge bin full of examples of the kinds of things they throw from the floats during the parades, not just beads but collectible plastic cups and trinkets and coins. And the costumes are beautiful.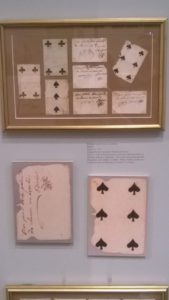 The Cabildo, or town hall, is on the other side of the cathedral. By the time we got there, I was getting tired, and the exhibit is really big and full of interesting stuff, so the details all blur together. It basically showcases the history of New Orleans from its earliest explorers in the seventeenth century down to the early twentieth century. Some highlights: the playing card currency (shown left), the giant hamster wheel that's actually the wheel for the big state lottery, a Civil War doctor's chest complete with tools for post-mortem dissection, and a Baker rifle taken from the British 95th regiment (fans of Sharpe's Rifles will recognize this). We were hurried along by a museum employee, who told us they were closing up soon–the state museum sites close at 4:30, so we were lucky to get through both in an afternoon.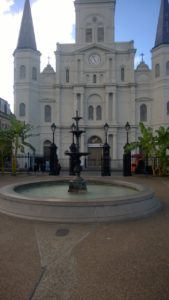 We thought about going to Muriel's for dinner, but they weren't open yet, so we crossed the street to Stanley, where we had some very fine gumbo with a really dark roux. Still no bad meals; even the messy po'boy was delicious. Then we went to the market to pick up snacks and more Coke. We stopped in at the vampire store (I don't know its actual name, but "vampire" is in there somewhere) and I picked up a new Tarot deck and chatted with the guy running the store. It's surprisingly non-campy despite the vials of fake blood and the wine bottles labeled with the "spirits" (get it?) of dead people. Then, home again for a long soak in the tub. Neither of us brought our best shoes for walking, though it was standing in front of the exhibits that really got me.
Tomorrow, we will probably head out to the World War II museum. The last time we were there, we didn't allow nearly enough time for the exhibits. We hope to get an earlier start tomorrow.