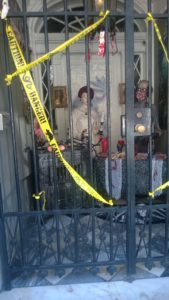 This was a less-busy day for us. We saw a couple of small museum exhibits–very small ones. One was on currency, specifically antebellum, Civil War, and post-war currency of the South. What drew me to this one was their display of counterfeit currency and a digital copy of a booklet handed out to bankers of the period on how to identify counterfeit money. I wrote about counterfeiting in my upcoming book, Wondering Sight, and while this exhibit wouldn't have made the book more accurate, it was fun to see the practical results of the counterfeiter's art. Some of the bills were really realistic.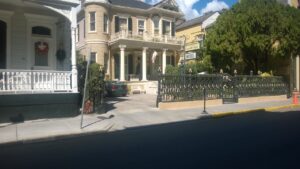 After the museums, it was time for the real purpose of this day: shopping for souvenirs. Except we did our shopping on Royal St., which is known not only for its many art galleries, but also for its many shops. There's a huge variety, with some of them being typical gift shops and others featuring local artists and artisans. I managed to leave the street with only a new pair of sandals and a blouse purchased from an Egypt-themed store that was tiny and adorable. I managed this feat by not going into any jewelry stores, though I'm regretting not buying the earrings at the Egypt store. We had lunch at Belle's, which is a '50s themed diner that also serves things like red beans and rice. The jambalaya had a great flavor, but was maybe a little too dry; I still call it a win.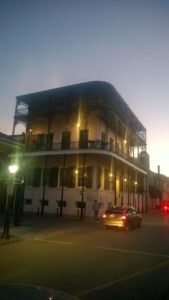 After lunch, we had to hit the open-air market. This is a true tourist trap, not that we cared, and among the stalls that sold variations on the same thing we found a couple of unique items. I like shopping at places like this because the sellers are usually outgoing and dynamic in their efforts to sell you things. I don't know why that isn't annoying, since I hate the hard sell and will generally refuse to buy from someone who's pushy unless it's a deal I'd have taken regardless of their salesmanship. But it isn't annoying.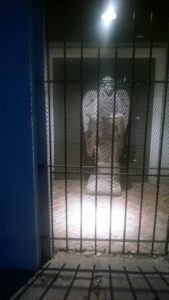 All of this meant a lot of walking, so we called it an early day and came back to do some work, then went out for dinner to a dive bar/diner that advertised Steak Thursdays–$6.99 for a steak dinner. I have this theory that some of the best food comes out of hole-in-the-wall eateries, so I had the steak dinner. I was half right; the mashed potatoes came from a mix and were flavorless, but the steak was tender and juicy and cooked exactly as I'd specified. The Plot Whisperer made the waiter/bartender get the weirdest look on his face when he asked if they had any lemonade. We might as well have had UTAH tattooed on our foreheads.
Tomorrow, lunch with an old friend, and the much-anticipated bookstore crawl. I intend to locate the store that was the inspiration for the bookstore in my new series The Last Oracle. It has to be seen to be believed.