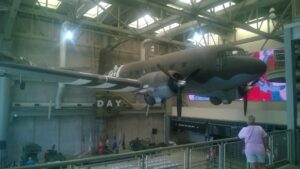 We set aside the whole day for our visit to the National WWII Museum based on our previous experience. Last time, we didn't arrive until after noon, and barely had enough time to see the whole thing before it closed. It's also an emotional experience, full of sensory overload, and I anticipated not wanting to do much else after we were done. So after breakfast at Mena's Palace, we hailed a cab and were on our way.
The interactive part of the museum exhibit is so interesting. They issue you a card, called a "dog tag," and then seat you in a mockup of a train carriage for orientation, where you're assigned a person from the war era who you follow as you go through the exhibit. And who did I get but Ernie Pyle, who happens to be one of my favorite writers and war correspondents. He's quoted frequently in the displays, but the interactive tour had even more information on his contribution and death. Every so often there were kiosks where you'd tap your dog tag and watch a brief video about what your person was doing at a particular time during the war. There were also artifacts you could digitally collect, which were saved to your dog tag account for access later. It was a lot of fun (though for mine, the final segment "Life after the War" was slightly depressing, as Pyle was killed just days after the invasion of Okinawa and didn't live to see the Allies' final victory).
We kicked around for almost an hour looking at the Merchant Marine display before heading in to see a movie called Beyond All Boundaries that was basically a history of the United States' involvement in World War II, but touching on the personal as well as the military history. It's advertised as "4D," which means who knows what–there were tricks like rumbling seats and falling "snow" I was really grateful not to be under. It was interesting, but a little too melodramatic for my tastes. I prefer the more subtle drama of the exhibits, particularly the artifacts.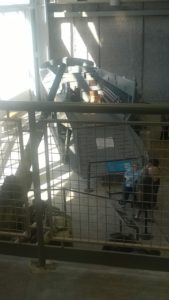 So after the movie, we had lunch at the canteen (still haven't had a truly bad meal) and then went on to the exhibits. The last time I was here, one of the visiting exhibits was on propaganda used by both sides, and it was fascinating. There wasn't anything nearly so unusual this time, but the permanent exhibit is overwhelming in its content. I can see why this place is one of the highest-ranked museums in the country, because they know how to balance the mundane against the grand. And there's just so much to see, even if (since it's a US museum, after all) they only start with Pearl Harbor. There's overviews of the battle and the Allied and Axis strategies, and snippets of the lives of servicemen and -women, and hundreds of artifacts, including a wall of guns my son would have appreciated. There are also contemporary film excerpts, some of which are extremely disturbing, like the liberation of the concentration camps. Piles of dead bodies in trenches, living skeletons who look even more emaciated next to their rescuers. That this was the work of human beings astounds me.
At some point, I think part of me shut down. Like I said, it's all so much, too vast for any one person to fully comprehend. So many people were involved in this war, all of them with stories to tell, that in some respects the museum's purpose is futile. And yet what else can we do but remember? What struck me this time–actually, I remember thinking it the last time–was how what you take away from presentations like this one is ultimately very personal. I would like to think that anyone attending the museum would come away sickened and horrified and full of desire that such a thing never happen again. But it's impossible to talk about World War II without commenting on the millions of acts of bravery, of men and women giving their lives or freedom for the sake of others, and I think there's potential there for someone to see only that, to forget that it was great evil that made those sacrifices necessary. I hope I'm wrong about that.
There's also a display of the art of Tom Lea, who painted and drew many pictures of the war, a lot of which ended up in magazines or the cover of Time. Many of them were from the battle of Peleliu in the Pacific theater, and they are stunning and horrific and beautiful. My favorite is of an Army chaplain, approaching a dead soldier as his comrade covers his face. The look on the chaplain's face is simply heartbreaking.
Eventually, we were mentally and physically exhausted, and took another cab back to the hotel. I have a feeling this driver took us by a longer route, because it felt like it took much more time to get back, but he was a nice guy and we had some interesting conversation with him. We have no plans for tomorrow, though at some point the ritual Shopping for Souvenirs must happen. Fortunately, there are a ton of stores within walking distance. Surprisingly, I haven't gone to any bookstores. Yet.