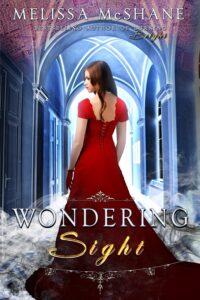 It's here! The next book in my Extraordinaries series, WONDERING SIGHT, is released today. How am I going to celebrate? With a visit to the dentist, you know, like you do…
WONDERING SIGHT is the story of Sophia Westlake, the Extraordinary Seer who discovered the secret of how the pirates were tracking the Royal Navy ships in BURNING BRIGHT. Sophia is a talented, well-respected Seer within the government's War Office, with a perfect accuracy rating. But when she accuses Lord Endicott of embezzling from the government, her Dream is "proved" false, and she is expelled, sent back to London, her reputation intact only because the War Office would look bad in condemning her. Furious, Sophia decides to turn her talent toward bringing down Lord Endicott, with the help of her best friend Cecy and her cousin Lady Daphne St. Clair, an Extraordinary Bounder. But as Sophia draws ever nearer to bringing down her prey, she becomes increasingly like the man she's sworn to destroy. Will Sophia's success come at the cost of her own sanity–or even her life?
WONDERING SIGHT is available as an e-book here, and coming soon in print.