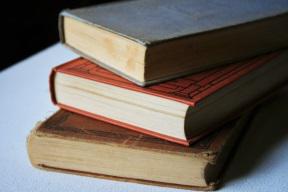 This has been a good year for reading. I didn't read as many books as I usually do, but the quality of the ones I read made up for it. I used to do this whole elaborate year-end wrap-up–best books, worst books, new series, etc.–but over the years that's sort of shrunk into "what did I love this year?" So here are five books I really loved from last year, some of them new releases, others books I missed when they were first released. (I put them in order by author's last name, not being able to choose a favorite.)
Touchstone, Andrea K. Höst: This is a really simple story–the diary of a girl lost in a strange world, one day at a time–but the characterization and the cleverness of the setup make it shine. I think I read the whole trilogy in seven days. I still think Medair is my favorite of her books, but I'd have trouble setting the two against each other.
Greenglass House, Kate Milford: Beautifully written, beautifully conceived, rooted solidly in concepts of family and belonging, I was captivated by it from the beginning. I loved the characters, who were just quirky enough without being ridiculous, and the family relationship was great. It's also got the best made-up role-playing game system I have ever seen in fiction.
A Stranger to Command, Sherwood Smith: This has been out for a while, and I have to confess that I didn't read it when it first came out in print because I didn't like the cover. I am full of shame. I have an epic love affair going on with Crown Duel, and anything to do with Vidanric is going to be a winner as far as I'm concerned, but this was an amazing story all by itself, full of intrigue and relationships. I would love to see another book about what happens between this one and Crown Duel.
The Golem and the Jinni, Helene Wecker: Again, I am full of shame for not having read this sooner. It's just beautiful and clever, with interesting characters and a complex plot that reads so smoothly it isn't until you're finished and trying to explain it to someone else that you realize the depth of the plotting. I'm not saying I want a sequel–I think a sequel would be a bad idea, in fact–but the ending made me feel as if more was possible for the characters, like they'd go on living and doing things even though the story was done. Very enjoyable.
The Martian, Andy Weir–This one really grabbed me. I love hard science, I love survival stories, and this book had both of those cranked up to eleven. I'm not going to choose favorites, but this was definitely the one that got my blood pumping. I am totally looking forward to what Weir comes up with next.
I'm looking forward to a new year of reading!